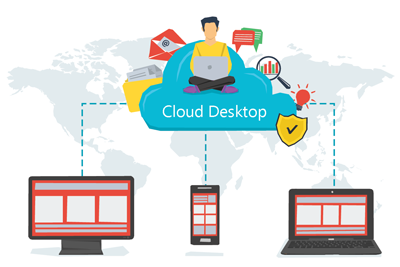 Desktop as a Service, or DaaS, is a kind of cloud
service that allows data to be accessed anytime, anywhere, and with any device. With DaaS, the backend of a virtual desktop infrastructure (VDI) is hosted by a service provider, which is responsible for managing everything inside the cloud and outside the desktop, simply known as the "virtual desktop."
If your running a business that strives to be always active, you can greatly benefit from using DaaS. With this, you can have access not only to your files, but also to your computer's whole desktop— from operating system and software applications, to folders and other desktop features. It revolutionizes the way you get the job done, and here at HoustonTech, we can help your business experience just that.
At HoustonTech, we can help you incorporate DaaS or cloud desktop into your business. Our cloud desktop service is guaranteed to be safe, simple, affordable, and effective. With HoustonTech's team of experts, your business can have a fully-functioning cloud desktop system in no time, and we will even take care of the continuous monitoring and maintenance, so you can focus on the more important aspects of your business. Whether your employees are using a laptop, tablet, or simply their phones, you can be sure that they can easily access the files they need 24/7, wherever they may be.
HoustonTech's cloud desktop service are tailored to fit your business' specific needs. We offer the following to businesses in the Houston area:
Advance endpoint security
Helpdesk
Patch Management
Update Management
Hardware Purchases
Areas We Serve:
Houston TX | Stafford TX | Sugar Land TX | Katy TX
For your cloud desktop needs, trust only HoustonTech! Give us a call at 832-919-7100 from Monday to Friday, 07:30AM-07:00PM, and let's discuss the best cloud desktop solutions for your business.
Want to discuss any requirements or looking for a quote?