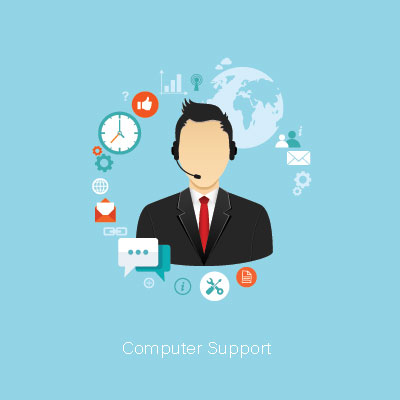 We are computer support providers for
businesses in the Houston area. Our desktop support experts are available to troubleshoot a wide array of technical issues to ensure that your business runs smoothly. Our computer-support technicians are available 24/7, either via chat or phone call, to dive into the issue you are experiencing and resolve it promptly. We understand not all businesses are the same and every client may have different issues depending on the industry they are in, therefore, our IT support technicians maintain a knowledge base and log the resolutions after resolving the computer issues. The knowledge base serves as a reference so similar issues that arise can be resolved quickly.
Our Houston computer support services include:
New computer setup with standard OS and applications
Erasing confidential data securely
Copiers/Fax setup and support
Preparing computers for e-waste and disposal
Areas We Serve:
Houston TX | Stafford TX | Sugar Land TX | Katy TX
If you are looking for a computer support provider, then look no further. We provide onsite support and remote support services. Call us now to discuss your IT support needs.
Want to discuss any requirements or looking for a quote?
Testimonials
Here are what some of our clients have to say about us:
We let technology work for your business
We serve individuals and businesses in Houston, Sugar Land, and Katy, TX areas. Contact us at 832-919-7100 to get a free quote or schedule a sales pitch-free, complimentary consultation.